Idk if this has happened to anyone else before but.. Azmikas armour kinda went see-through D:
SHE HAS NO HANDS...!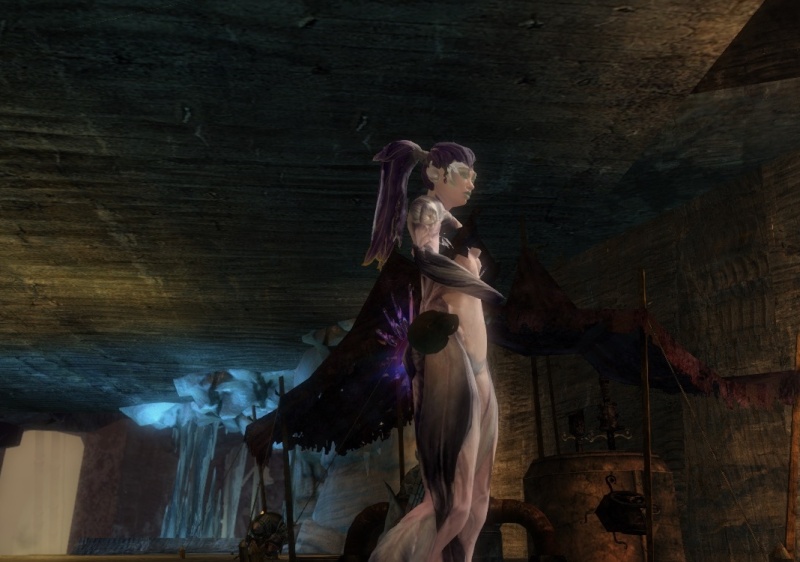 O_O wow what a glitch! Poor Azmika ;-;/
O_O

Reminds me of that fairy tale, the girl with the silver hands - or the girl with no hands, as some call it. Short version - this poor girl's idiot father made a bet with the devil, and when he lost he had to give up his daughter. So he puts his little girl in the middle of the pentacle or whatever and summons the devil, but the devil cannot retrieve the girl because she is too good and pure, and her tears have washed her hands clean. So naturally the devil orders the father to chop off his girl's hands. The father complies (!!!) but then the girl cries all over her stumps and she's still deemed too good and pure to be taken to hell. So the devil is thwarted and the father gets to keep his daughter, only the daughter has other plans. She's had enough of body parts being chopped off, so she goes off into the world where she meets an angel who thinks she's so lovely that he eventually crafts her a pair of silver hands. Sometimes in the story the angel just helps her and it's the king she marries who gives her the new hands.

So Azmika, all you have to do is be good and pure so that the devil won't take you away and either an angel or a nice sugar daddy will buy you some new hands. Because that is the moral of the story here...that even hands are replaceable if you're good.

Man, what a horrible fairy tale :X. Doubt we'll be seeing a Disney version of that any time soon!
Last edited by Verileah on Tue Mar 26, 2013 12:01 pm; edited 1 time in total (Reason for editing : words double words rerepeating)

Verileah




Posts

: 51


Join date

: 2013-03-14



I love stories like that! More darker tones, more deep and meaningful.
D&M haha!!! Wow Verileah you never cease to amaze me haha!

I'm sure your armor class and defense are just fine....you'll just be feeling slightly more of a breeze for a while.

Don't try to get away with anything. We can see right through you.
---
Permissions in this forum:
You
cannot
reply to topics in this forum